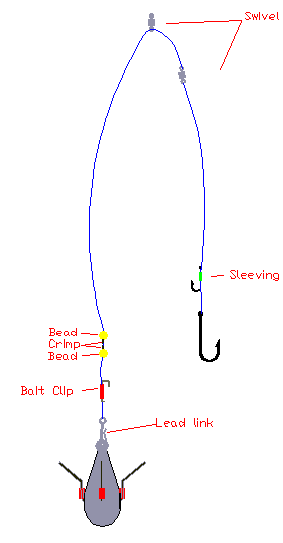 This rig can utilize either a Pennel or Single hook arrangement. When used on snaggy bottoms, the full benefits of this rig come into play. When a fish is hooked, the weight of the fish pulls against the swivel and lifts the sinker away from the bottom, making retrieval easier.
The hook snood can be altered depending on conditions. Shorter snood lengths for heavy seas and much longer snood length for calm seas.
---
Technical Info

Sinker Snood Line

60 lb to 80lb

Hook Snood Line

30 lb

Main Trace length

450 mm (Rough

850 mm (Calm)

Hook Snood Length

300 mm (Rough)

600mm (Calm)

Recommended Hook Size

2/0 to 5/0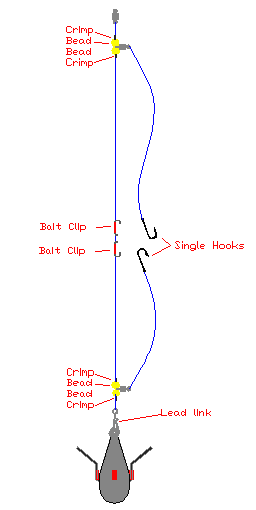 ---
This is a very basic but effective rig which present two hooks and therefore doubles your chances of a bite. The rig also offers you the opportunity to try two different baits at the same time, with one being present on the bed whilst the other is suspended in the flow.
The use of the bait clips improve casting distance and preserves the bait whilst the rig is flying through the air.
The main criteria when building this rig is to ensure that the hook snoods are not too long or they will tangle with each other leaving you in a right mess when you wind in to re-bait.
---
Technical Info

Sinker Snood Line
60 lb
Hook Snood Line
30 lb
Main Trace length
500mm - 1500mm
Hook Snood Length
200mm - 700mm
Recommended Hook Size
1 to 2/0

Like its sister rig, the three hook flapper, this rig gets it's name simply because it presents the bait on two hooks which flap around. This is a simple rig to make and gives you two shots with each cast.. The two hook flapper enables longer hook snood lengths, than its sister rig. This rig does not lend itself to distance casting as the bait is "Flapping Around" as the rig fly's through the air, reducing distance and damaging the bait. However the rig is ideal for fishing when you want to experiment with two different baits.

---
Technical Info

Sinker Snood Line
60 lb to 80lb

Hook Snood Line
30 lb
Main Trace length
1000 mm - 1500mm
Hook Snood Length
100mm to 650mm
Recommended Hook Size
1 - 2/0 to 5/0

WISHBONE RIG
The Wishbone Rig is not a rig that will win the "Most Frequently Used" prize, however it is one that is worth a try if all else has failed and you want to try something different.
The biggest advantage is you can experiment with your bait, try both hooks baited the same or a different bait on each hook.
Normally you would expect to hook the fish on either one or the other hook, however last year when fishing of Norfolk, I hooked into a cod. On landing I found it had both hooks in its month, With Mackerel on one hook and the lug on the other I can only presume he fancied a cocktail


Technical Info

Sinker Snood Line

60 lb

Hook Snood Line

30 lb

Main Trace length

1000 - 1500 mm

Hook Snood Length (Main)

500 - 1000mm

Hook Snood Length (Secondary)

300 - 450mm

Recommended Hook Size

2/0 - 5/0

Rotton bottom


can be used


15lb