Bedlington Station Sea Angling Club fishes some of the most productive water in the North East. If you are interested in what the club or the area has to offer read on. There are shore maps, match Results and advice about how one of the most demanding but productive coastlines can be fished.
The purpose of this website is to keep club members up to date with what's going on and to encourage new people to join our club. The areas we fish should appeal to most anglers, for the masochists some of the ground is rock

and covered with kelp There is a wide range of mixed ground conditions, to some of the most productive beach marks in Alnmouth ,Whitley Bay , Druridge Bay , Sandy Bay, Blyth and Tynemouth for flatties, Cod, whiting and Bass. Hopefully there is something for everyone
We are a very friendly club with about 30 members we fish most weeks. Our competitions are fished from 18.30hrs to 22.30hrs with the weigh in at the General Havelock where after the weigh in has finished Ed the landlord puts on hot home made soup for the members. We hold meetings most months . we are members of the Welsh federation of sea anglers and all our members insured through the club.
Steve Surtees has been our Chairman for 9 years now, along with Gary willis our club secretary and Alan Naisby our Treasurer, and with our committee members Zoltan Callan Stevens and Ray James they keep the club running smoothly.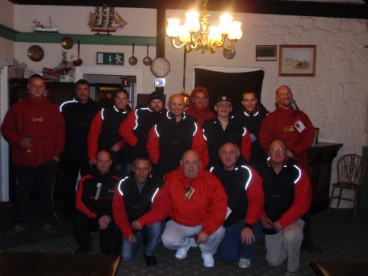 Members received their new Titan, IMAX, and Daiwa smocks which were bought by the club 2012.